Check for Recalls at Lexus of Riverside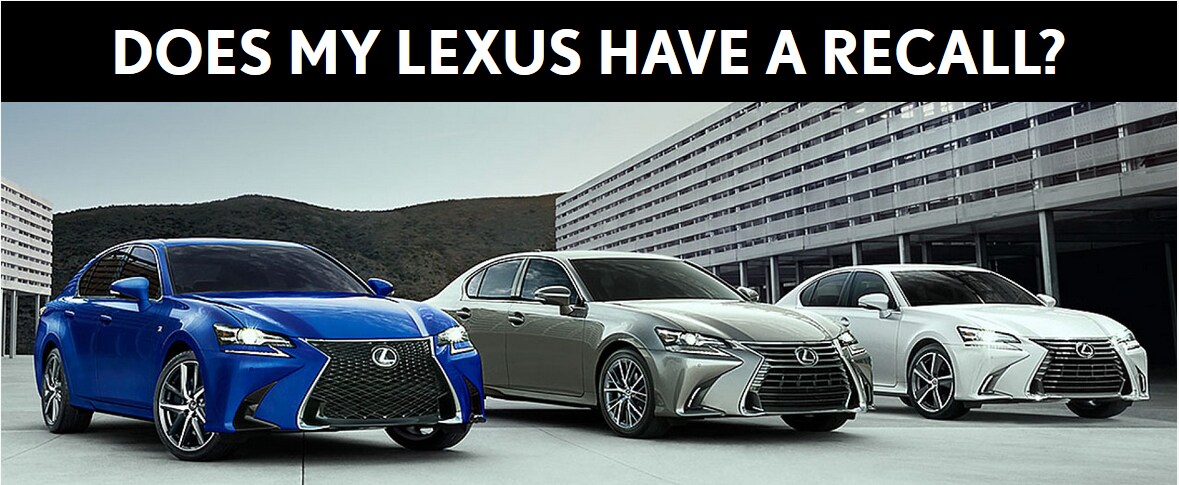 Check For Recalls
Type in your license plate or VIN Number to check for recalls on your Lexus.
Call Us: 855-217-6040
* Indicates a required field
By clicking "Submit," you direct Lexus of Riverside to disclose and share this information with Lexus, a division of Toyota Motor Sales U.S.A., Inc. ("Lexus Corporate"). For more information, please see our Privacy Policy
HERE.
Call our recall support phone number or fill out the form below and our service team will notify you of any recalls on your Lexus.
Looking to service your vehicle for a recall?
Mindful of Lexus Servicing, Maintenance at Lexus of Riverside
All vehicles require constant monitoring and regular servicing. From engine oil changes and brake systems examined, your Lexus deserves servicing attention on a periodic basis. And in this effort, there's optimal performance and safety enhanced, all while extending Lexus longevity.
So, make sure your Lexus luxury SUV is up-to-date in terms of servicing milestones and maintenance protocols.
Visit us today near Newport Beach to ensure this happens.
Lexus - Takata Airbag Recall Information at Lexus of Riverside Near Corona, CA
Lexis of Riverside wishes to apprise our clientele of the expansive Takata airbag recall related to Lexus models. As the largest recall in automotive history, over a dozen automakers have been affected. So, there's no need to worry. Lexus of Riverside is here to assist in all related matters.
Why Is This Lexus Recall So Important?
It's been determined that our California climate may initiate quick degradation of certain elements comprising the Takata airbag system. This has been proven to be harmful when the driver's side airbag deploys.
The airbag inflator when activated may explode given previous history, thereby shooting metal fragments throughout the cabin. So, it's imperative to use your Lexus VIN or license plate details to understand whether your Lexus is due for recall servicing near Mission Viejo.
How to Determine Whether Your Lexus is Recalled
With the expansive reach of Lexus of Riverside into San Bernardino, it's most likely you purchased or leased your Lexus RX 350 from here. And with that, Lexus of Riverside wants to ensure your Lexus earns the attention it deserves, especially when a recall is in effect.
Given Lexus models have been outfitted with Takata airbag systems, you'll need to know whether your Lexus ES 350 is due for servicing in this regard. Therefore, here's what you can do on your own through the Lexus of Riverside online recall portal:
Locate your Lexus IS 300 Vehicle Identification Number (VIN). This is most easily gleaned on your Lexus model's title, registration or insurance documentation.
Other spots to locate your VIN are the driver's side door jamb, or where the windscreen meets with dashboard on driver's side.
Once found, use the online Lexus of Riverside recall portal and enter VIN or Lexus license plate details.
Upon submittal, you'll be guided through a process simple, free and fast.
How Do I Schedule a Recall Appointment Near Ontario?
Once it's been confirmed your Lexus does require recall servicing, you may use the online Lexus of Riverside service scheduling page. By entering your account information or signing in with your Google credentials, simply make an appointment that's convenient. And while selecting a date and time, be sure to convey the reason for the servicing appointment. That is the Takata airbag recall.
Will It Take a Long Time For Recall Servicing?
Dependent upon scheduling, the procedure to fix the Takata airbag system is handled in about an hour. All you need to do is bring your affected Lexus model down to our local Newport Beach area service department at the appointed time. And while your Lexus is being serviced, loaner vehicles are made available as is shuttle service.
Other Lexus Safety Recalls, Service Campaigns
It's best practice to sporadically review the Lexus of Riverside website for any recall or service campaign information related to your Lexus model.
While not a forgone conclusion your Lexus will ever be included in a recall, Lexus service campaigns may be initiated at any time. And with any related repairs done within a Lexus Safety Recall or service campaign, there's the possibility of reimbursement with out-of-pocket costs incurred. So, stay informed from home in Riverside or office near Corona.
Description
The involved vehicles are equipped with a certain 3.5-liter V6 gasoline engine. The diaphragm material in the fuel pulsation dampers in this engine may harden over time and crack, causing fuel to leak.
Remedy
Lexus will send an owner notification by first class mail advising owners to make an appointment with their authorized Lexus dealer to have the Fuel Delivery Pipe replaced with a new one at NO CHARGE.
Recall: ELF
Description
In the subject vehicles, the sealing property of the gasket seated in between the pressure sensor and the fuel delivery pipe could become degraded. During vehicle operation, fuel could leak past the gasket.
Remedy
Any authorized Lexus dealership will repair the fuel pressure sensor sealing surface and replace the gasket at No Charge to you.
Recall: GLG
Description
The subject vehicles are equipped with front passenger airbag inflators produced by Takata. The propellant in these inflators may degrade after prolonged exposure to high absolute humidity and fluctuating high temperatures. Degraded propellant can cause the inflator to explode during airbag deployment.
Remedy
The remedy will consist of the replacement of the airbag inflator or the airbag assembly, depending on the vehicle model. Call 
855-217-6040
 to schedule your repair today!
Recall: GLB
Description
The subject vehicles are equipped with side Curtain-Shield-Airbags (CSAs) which deploy from the roof rails in the event of certain types of crashes. Due to improper programing in the airbag control module, there is a possibility that, under certain specific and limited conditions shortly after vehicle startup, the CSAs and seat belt pre-tensioners could activate when not necessary.
Remedy
The remedy will consist of the replacement of the airbag control module.
Recall: KLG
Description
The Data Communication Module (DCM) in the subject vehicles are equipped with software to identify the location of the vehicle using the Global Positioning System (GPS) to support features of the Safety Connect system. Due to incorrect programming in the DCM software, after November 2nd, 2019, the GPS coordinates for this system will be calculated incorrectly. This will cause the system to use incorrect vehicle coordinates if one of the system's features is activated.
Remedy
For all involved vehicles, any authorized Lexus dealer will reprogram the Data Communication Module at NO CHARGE to the vehicle owner.
Recall: Takata
If you own a Toyota, Scion or Lexus manufactured between 2002 and 2017, your vehicle may be subject to a Safety Recall for the Takata Front Passenger Airbag Inflator or Takata Driver's Airbag Inflator.